Environmentally-friendly street advertising covered…
Welcome to Green Ape Graffiti. Green Ape specialise in power wash reverse graffiti street advertising and other forms of environmentally friendly street ad graffiti across, Edinburgh, Scotland and the rest of the UK. Our green street graffiti uses are all non-permanent forms of street advertising which is becoming very popular now for many gorilla style street campaigns.
Here's a few of the gorilla street graffiti styles we can apply…
Reverse Power-wash graffiti street advertising
Is it graffiti? nope, it's actually the opposite – we effectively clean an imprint onto a dirty wall or pavement which can stay visible for weeks and months. We effectively power wash through a metal stencil, cleaning the surface within the stencilled area. When the stencil is taken away, you have a high impact visible street imprint (and you've done your bit for the local community by cleaning a part of the dirty city!)
Chalk Graffiti Street ads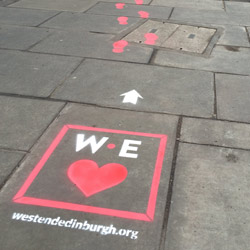 As it sounds we imprint a non-permanent, environmentally friendly chalk substance onto most materials from pavement to grass. The biodegradable elements of the chalk will fade in time and are washable with water for an immediate disappearance.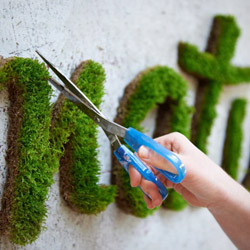 Yup, we're talking real living, breathing and growing green graffiti! We can apply our specially made moss paint across a wall or structure where upon it will begin to grow a clump of green moss graffiti over wherever it is applied. This is a truly bio form of advertising and certainly captures people's attention.
Image: Anna Garforth